The Best Market Place to Do Shopping Indian Wedding Dresses in Delhi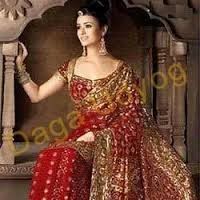 The wedding is a great event in one's life. Everybody looks excited on the matter of wedding. Wedding Dress is most crucial part of the ceremony. Nowadays the brides and groom also are very conscious about their dresses. For the most special life event, everyone wants to look like king/ queen. Delhi is a preferable wedding dress destination for all.
Some best places for Indian wedding dresses in Delhi:
Karol Bagh
Karol Bagh is the most eminent area in Delhi for bridal dresses. From the very ancient time Karol Bagh is famous for their wedding clothes. The area once famous for their reasonable price but nowadays the exquisite bridal pieces cost lakh of rupees. A good bridal lehenga costs start from 25,000 and goes up to 3.5 lakhs. Shops like New Handloom Emporium, Meena Bazar (40 minutes from Shahpur Jat), Chhabra 555, Satya Paul, Frontier Raas and Frontier bazaar offers gorgeous bridal collections.
Chandni Chowk
Chandni Chowk is the most crowded and congested area in Delhi but famous for its reasonable price. You can get a miscellaneous range of collection on lehengas. The shopkeepers are very understanding and cooperative in nature. They will help you to find out your own choice according to your budget. They are going to aware you about the latest fashion trends. Shop like Anarkali Bazar makes their lehengas inspired by Bollywood pieces.
Designer Wear
If you are savvy for designers, wear but your pocket does not permit your dreams then you must visit in this area of Delhi. Some small independent designer works here, and you will get a lot of variety on it, and the collections are just breathtaking. You can get plenty of designers in Shahpur Jat, Greater Kailash 1 & 2 (M and N Block Market). Bhumika Grover is a fashion designer from Shahpur Jat, has recently launched her new bridal collection, a blend of traditional and contemporary.
Hauz Khas village
Hauz Khas village is a bohemian market where you get several boutiques. The charming alley offers a wonderful shopping experience. You will get stunning lehengas in these boutiques with a few expensive sides. The distance from Shahpur Jat to Hauz Khas village is 1.7 km only.
South Extension
If your budget is upwards 70k, Frontier Raas is the right place for you. It has an excellent collection of bridal wears. Heritage is a shop in the south extension that has exquisitely classy options. Multi-designer store like Samsaara is a great option for you.
Lajpat Nagar
From light to heavy lehengas and accessories you will get in Lajpat Nagar. Generally, the price starts from 40,000. Stores like Kapil & Mmonika, Libas, Malhotra's, CTC Plaza and Shakuntalam are very famous in Lajpat Nagar.
Defence Colony
If you are not like to wear bridal sarees and lehengas, then you must visit the defence colony. The special item named 'Nalli sarees' are the expensive ones. The area is coming up as a posh hub. It took only 14 minutes from Shahpur Jat.
Some others like GIP Mall in Noida and the Bridal shows and exhibition are the great place for wedding shopping.
Visit for more information of apparel stores in Delhi, Mumbai and Kolkata - http://www.zakoopi.com